Description
IGF-1 DES Peptide Vial Cyprus
This product's intended for research and medical purposes only, to be only used by trained professionals

. 
IGF-1 DES (reported as des(1-3) IGF-I in clinical researches) is a variation of developing IGF-1.
What is IGF-1?
Additionally IGF-1 is important for regular human growth & development. Acts through IGF-1 receptors to apply an anabolic impact to develop muscular tissue. Which is why IGF-1 is necessary for muscle building. Reduced IGF-1 levels connect to bad growth as well as a variety of metabolic problems.
Cells inside the body create IGF-1 as well as its synthesis impacts its functionality. As a result, most of IGF-1's made by the liver and transferred to various other cells. Also where it functions as an endocrine hormonal agent.
IGF-1 Des Cyprus Peptide
This peptide is able to encourage muscular tissue and bone growth. Also fixing as well as smooth muscle mass survival. Generally speaking IGF-I DES has demonstrated to boost body growth in a series of cells in many animal researches.
Research studies have revealed that fat's decreased along with muscle mass gain
[1].
Furthermore, in diabetic animals, the customized peptide showed results throughout the alimentary system. As well as resulted in developments in nutrient uptake.
---
References:
https://www.ncbi.nlm.nih.gov/pmc/articles/PMC3180229/
---
Sequence: H-Thr-Leu-Cys-Gly-Ala-Glu-Leu-Val-Asp-Ala-Leu-Gln-Phe-Val-Cys-Gly-Asp-Arg-Gly-Phe-Tyr-Phe-Asn-Lys-Pro-Thr-Gly-Tyr-Gly-Ser-Ser-Ser-Arg-Arg-Ala-Pro-Gln-Thr-Gly-Ile-Val-Asp-Glu-Cys-Cys-Phe-Arg-Ser-Cys-Asp-Leu-Arg-Arg-Leu-Glu-Met-Tyr-Cys-Ala-Pro-Leu-Lys-Pro-Ala-Lys-Ser-Ala-OH

Molecular Formula: C319H501N91O96S7

Molecular Weight: 7371.4

Storage: Lyophilized peptides to be stored below -18°C

Research use only. Not for human or animal consumption!
---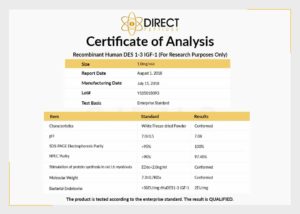 ---
DISCLAIMER: We do not supply peptides to Any individual under the age of 18. You must be a licensed and qualified healthcare practitioner. Our team of dedicated professionals commit to providing an extensive range of products. Used medical research by responsible trained and professional individuals. All products listed or provided on this website (https://direct-peptides.com) are for medical research purposes only. Direct Peptides do not encourage or promote the use of any of these products in a personal capacity. I.e. human consumption, nor are the products intended to use as a drug, stimulant or for use in any food products.
---
BUY IGF-DES online! From Direct Peptides Cyprus